Professional Grade Oven Liners
1. Product Specification
Professional Grade Oven Liners taking the advantage of the non stick and heat resistance of ptfe with the strength and dimensional stability of fiberglass, our liners is a timer saver, a drip blocker, a crumb cather, a spill protector. Just place our Professional Grade Oven Liners on the bottom of the oven to protect it against splashes, messy drips, fat, burnt-on sugar, burnt-on juices and burnt-on oven messes, and on need to clean the bottom of oven again.Our Professional Grade Oven Liners can be used in any electric ovens, gas ovens, toaster ovens and microwave ovens. No more toxic oven spray cleaners. the Microwave Oven Plate Liners eliminates messy, caked on drips in the bottom of your oven and makes clean up a snap. This reusable, heavy weight non-stick coated sheet withstands up to 480-Degree. the oven protector measures 16-inch by 20-inch and fits most standard ovens. non-stick oven protector can be cut for better fit and for use in toaster oven or microwave. Remove liner when operating in self cleaning mode
2. Advantages Of the Professional Grade Oven Liners
1.100% non-stick
2.Reusable for thousand times
3.Heat resistant up to 260 °C(500°F)
4.Quick and convenient
5.Eco-friendly
6.Suitable for all ovens (gas, electric, AGA, hot-air, microwave, grill )
7.Can be cut to size with scissors to fit any oven
8.Easy to clean in soapy water with a sponge, or kitchen paper
9.Dishwasher safe
10.Complies with food regulations, was approved by FDA, LFGB etc.
3. Product Use and Application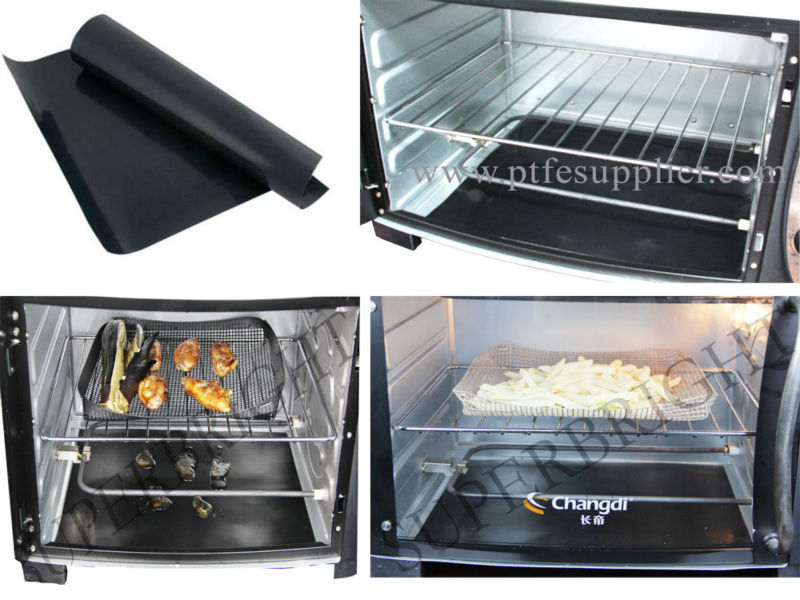 4.How to use the Professional Grade Oven Liners :
•Lay the Professional Grade Oven Liners on the bottom of ovens to protect the bottom from splash
•The non stick teflon sheet slides beneath your ovens bottom is used for catching all the messy drips from pies
•Cakes and casseroles that bubble over then you can just wipe them right off the slick surface with this
•Reusable Microwave Oven Plate Liners with a100%non-stick surface you days of scrubbing the oven floor are definitely over.
•The Professional Grade Oven Liners can be used for years on either side.

5. Maintenance and Care:
(1) Avoid using metal, sharp or pointed objects on the Microwave Oven Plate Liners , they might damage the liner.
2).Do not put the oven liner in direct contact with flames, burners, grill or heating elements.
3).Do not cover ventilation holes of the oven (gas oven).
6. Certificate
LFGB REPORT